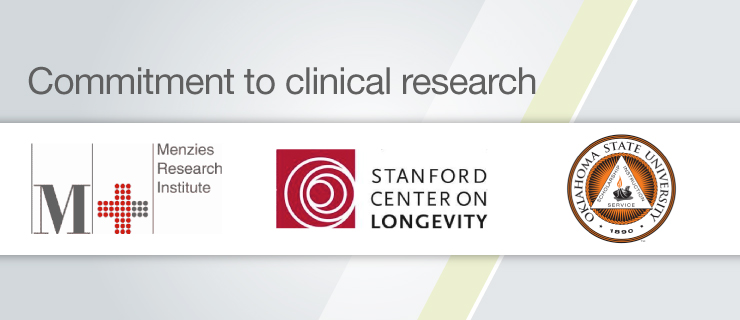 Clinical Trial results have shown
A statistically significant reduction in pain and inflammation
A statistically significant increase in mobility and muscle strength
A clinically significant reduction of 400mg per day usage of paracetamol
Long-lasting results; and
An overall improved quality of life.
It is absorbed through the skin and penetrates the joints with soothing relief from pain and inflammation. Unlike sports rubs, which may simply increase blood circulation and produce a very temporary cessation of pain, this works more gradually over a few weeks to produce long lasting relief. With increased range of motion, users experience a restored quality of life, free from the debilitating limitations of osteoarthritis.
Applied daily, the cream offers sustained joint health and provides relief from pain and inflammation of osteoarthritis without toxic or harmful side effects.
A dual centre, pivitol Phase III, randomized controlled trial using Acteev® technology for knee osteoarthritis pain, inflammation and cartilage breakdown markers (Prof. Graeme Jones, Menzies Research Institute of Musculoskeletal Disease, Hobart) confirmed:
"This is superior to placebo for OA knee pain at 12 weeks" by both the Visual Analogue pain Score (VAS) and the Knee injury and Osteoarthritis Outcome Score (KOOS).
This study confirmed the findings of a prior published pilot study by Oklahoma State University, an Open Label Trial in New Zealand and a considerable body of anecdotal evidence.
Completed Clinical Trials
Phase III Clinical Trial (The Menzies Research Institute of Musculoskeletal Disease, University of Tasmania & The Royal North Shore Hospital Campus, Northern Sydney Central Coast Area Health Service).

Published 2012, Osteoarthritis and Cartilage journal. View summary here.
Poster presentation by Prof Graeme Jones at ECCEO Bordeaux France  "Treatment with 4JOINTZ® reduces knee pain over twelve weeks of treatment in persons with clinical knee osteoarthritis: a randomised controlled trial." Poster Presentation ECCEO

ARP An 'open-label' study undertaken for safety and efficacy in multiple joints in New Zealand by Applied Science and Nutrition (ASN). ARP NZ TRIAL Final Report
Double blind placebo controlled trial at the Stanford Centre of Longevity (SCL),  Stanford University USA, sponsored by SCL.
Double blind placebo controlled clinical trial (n=43) under the auspices of Oklahoma State University. OSU Published Report 2011